Rose
Los
Angeles


Rose is a premium edibles brand combining creative culture, sustainable agriculture and
award-winning chefs.

Infused with single-strain flower rosin, meticulously pressed in-house.


(Vegan & Gluten-Free)




About Rose
Seasonal
Stockists
Press
Email
Instagram


︎ New Seasonal In Stores Early May
Buddha's Hand from Blossom Bluff Orchards,
Dirty Girl Albion strawberries, Bariani EVOO.
︎
Rose Los Angeles



Rose is a premium edibles brand combining creative culture, sustainable agriculture and award-winning chefs. Infused with single-strain flower rosin, meticulously pressed in-house.

(Vegan & Gluten-Free)
︎
Why Edibles
Unlike smokables, edibles are not only non-carcinogenic, but are also much less wasteful, and much more economical. For example, 1g of smokable flower (approximately 200mg of cannabinoids) is enough product to roll two joints, one blunt, or pack 3-4 bowls, while 200mg of cannabinoids in edible language translates to two whole boxes of delights, i.e. anywhere between 20 and 40 sessions depending on your tolerance. For those of you who have a micro-dose tolerance of 2.5mg, this amount will span to up to 80 sessions! At $30 retail, this equates to $0.37 per high. Additionally, edibles are digested in the stomach (versus inhaled via the lungs), creating the ability for a much longer high. Above all, we chose to merge flower with the agricultural and culinary worlds because of our desire to sink deeper into the integrative and creative culture of conscious food systems. What happens when you incorporate the best flower with the most interesting, seasonal food is where we are for[a]ging a new conversation in the ever-expanding and transforming cannabis market.

︎
Sourcing
We choose our fruit farms and purveyors based on many factors, such as the specialty of their operations, their location and variety, and also largely their stories—many of our long-lasting relationships with farmers and purveyors develop from their histories and creative practice in their fields combined with our own. Ultimately, we're creating a culture of experience surrounding our edibles, which are more than just products—they're stories of all the people and places and ingredients combined into them, including yours!

PRESS


"Rose LA is a breath of fresh air in the cannabis industry. Each product is an achievement of its own and the brand has managed to create epicurean level treats Bon Appetite would be proud of. From their segment leading rosin to their expertly crafted edibles and from their high-end packaging to their brand vibes, Rose LA was one of the favorite brands experienced at the recent Hall of Flowers."
Delia Flanagan, Chief Brand Officer
Why Do Weed Products Look So Luxe Right Now?
︎
Paper Magazine
Rose and the Art of the Elevated Cannabis Brand
︎
The New Consumer
Feb.'20
SEASONALS

︎
Our Limited-Run Seasonal Collaborations
Autumn Flame Peach
Nantou Dark Oolong Infused with Pure Beauty
Coastal Sun Banjo Rosin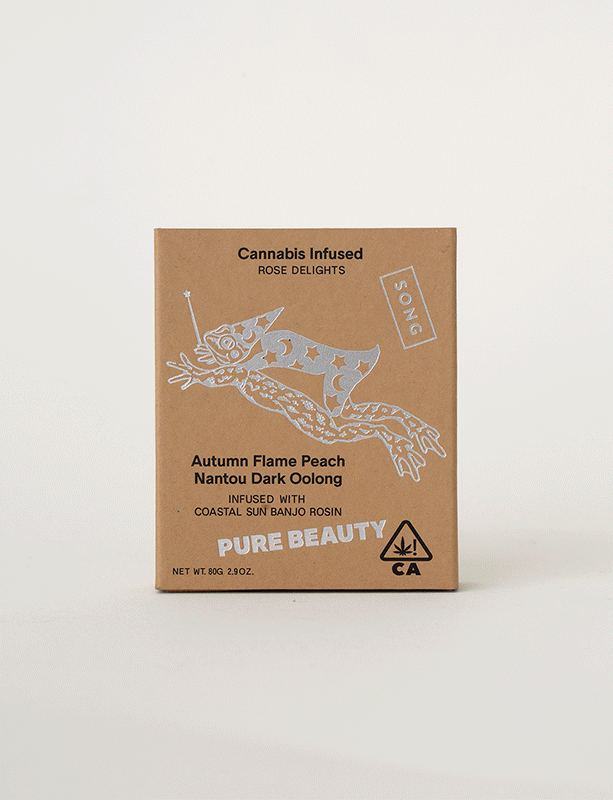 Coming Soon
Buddha's Hand from Blossom Bluff Orchards
Dirty Girl Albion strawberries, Bariani EVOO.
Southern California
---
︎
LOS ANGELES (
Eastside)
Sweet Flower
8163 Melrose Ave.
Los Angeles, CA 90046
(323) 591-2662
Cornerstone
2551 Colorado Blvd
Los Angeles, CA 90041
(323) 259-8933
Arts District
614 Mateo Street
Los Angeles, CA 90021
(213) 377-9420
LAPCG
7213 Santa Monica Blvd
West Hollywood, CA 90046
(323) 882-6033
Kushagram (Long Beach)
(949) 750-2002
---
︎
LOS ANGELES (Westside)

Serra
8151 West 3rd St
Los Angeles, ca, 90048
Studio City
11705 Ventura Blvd.
Studio City, CA 91604
(818) 794-6420
︎San Diego
Northern California

---
Vapor Room
79 9th S San Francisco,
CA 94103
(415) 626-2100
Harvest on Geary
4811 Geary Blvd
San Francisco, CA 94118
(415) 702-6767
Harvest on Geary
4811 Geary Blvd
San Francisco, CA 94118
(415) 702-6767
---
Cannabis Buyer's Club
3033 Shattuck Ave
Berkeley, CA 94705
(510) 849-4201
Kushagram (Oakland)
(949) 750-2002
---
Kind Peoples
140 Dubois St., Unit C
Santa Cruz, CA 95062
---
Ona
Serving Marin and San Francisco County
(415) 909-0382
Delivery

---

︎
SO. CAL



Goddess Delivers

LA & Oakland

(855) 426-5246